Project No. 2117
Primary Supervisor
Professor Michelle Garrett (MG) – University of Kent
Co-Supervisor(s)
Dr Jennifer Hiscock (JH) – University of Kent
Professor Steve Goldup (SG)- University of Southampton
Summary
Supramolecular Self-associating Amphiphiles (SSAs) are an exciting new class of molecule invented by JH (patent No. PCT/EP2018/069568).
SSAs (Figure 1) are a novel class of molecules, invented and patented by JH, that have previously been shown to self-assemble and demonstrate activity as broad-spectrum antimicrobials and antimicrobial adjuvants. Excitingly, we now have preliminary data that shows at low non-cytotoxic concentrations, some SSAs can also enhance the anticancer activity of cisplatin in ovarian cancer cells.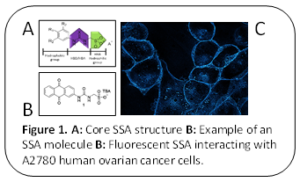 Project aims:
Identify the mechanism by which SSAs enhance cisplatin activity.
Determine if this activity is can be extended to other classes of cancer drugs.
Understand/develop/assess the structure activity relationship (SAR) of SSAs as next generation enhancers of current cancer treatments.
Approaches:
MG's lab:
Explore the effects of current lead SSAs +/- cisplatin on cell signalling, DNA damage response/repair pathways and cellular uptake in ovarian cancer cell lines (Aim 1).
Cell proliferation studies (using relevant cancer cell lines) on combinations of current lead SSAs with additional classes anticancer drugs to which there is known cancer cell resistance i.e. gemcitabine and paclitaxel. Assays used in Aim 1 will also be performed to understand mode of action for these co-formulations (Aim 2).
Expand initial studies from 5 SSAs to include up to 20 next generation SSAs to develop detailed SAR (Aim 3),
JH's Lab:
Understand the physicochemical effects of current lead SSAs and newly synthesised SSA's alone and co-formulated with an anticancer agent of interest (Aims 1-3).
Provide access to industrial collaborators (Aim 3).
SG Lab:
Study and optimization of higher order SSA complexes, which are influential in controlling SSA activity. SG will focus on threaded rotaxane complexes, which display enhanced stability and dynamics (Aims 1-3).
Areas of impact:
Health – better cancer treatment
Bioeconomy – through bioscience discovery.